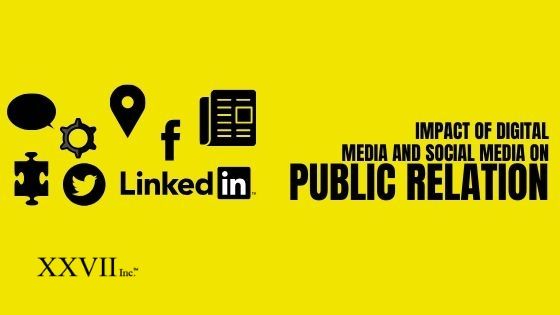 Impact Of Digital Media And Social Media On Public Relations
Today we don't see a Public Relations firm like those old firm where media relations and churning out press releases and calling journalists, it was like Pros would follow a pattern of working as they would ask for press coverage irrespective of the news value in the materials and continuously call a journalist to follow up. But now everything has changed massively in the PR sector.
Today everything is digitalized, and people are using the internet and social media like a wildfire. Digital PR is all about combining traditional PR with content marketing, social media, and digital marketing.
Adding social media as a platform in work today thousands of people are easily connecting to each other without long searches. A short video or picture tells a story on Instagram, Facebook, and Twitter, as well as promotes brand awareness. Before people came to know the advantages of social media power brand managers used social media to stay with the times, but now they see value with engagement, customer service, and advertising. Traditional advertising still exists, but ad agencies and PR agencies have taken a new root to work and connect.
These are some steps that a traditional PR to become a digital one. You can select one of them and start working.
Social Sharing
Nowadays we not only release news to the press for publication but also use a social media platform to publish the same. Creating own blog, website, and posting and updating their pages every while and then. Now when there are various temples and designs available on the internet, now your content should be short and straight to the point. If there is too much information, then make it a short summary and link back to the original (which should be on your client's website).
Keep in mind to publish the public relations on the platform itself, but also have a downloadable link available. Otherwise, ensure your events and other work have their own hashtag to use, as well as a post on social platforms about it. Allowing people, such as journalists, to share the press release, you can ensure a wider reach.
Get an influencer
We always come across the ads where we see a brand is always hosted by a celebrity or an influencer to make the brand popularized to people. An influencer is a great way to engage new people, especially when they have a large and somewhat relevant group of followers. Social sharing provides your influencer with a way to utilize their special platform to help you reach new audiences.
Leverage content marketers and creators
Content is one of the very important things today in social media marketing. Good content always helps you to gain a strong platform and many followers. Content has become king of the online world, creating desired and needed content that internet users always want. The gateways for reaching larger audiences is not only limited to social media, PR and marketers alike must compete in search results as well. And nothing does great search results as the content does. Content creators are the people who create multiple content such as videos, articles and blog posts. Just like we make contacts with traditional PR and journalists, similarly, we make deals with content creators that work in relevant fields such as PR and Marketing online magazines.
In a recent survey by ING, it says that 81% of Public relations professionals feel they can no longer do their job without social media. 78% of them felt it was important to their daily work. On the flip side, 78% of journals feel they can no longer do their job without social media. 50% of them admit that when they use social media, they do not feel the need to fact-check.
This helps us to understands what social media plays as a tool in the growth of the companies in building their relationships with both clients and the media.